I.B.2: The institution defines and assesses student learning outcomes for all instructional programs, and student and learning support services. (ER 11)
The changes made at the College to comply with this standard were guided by Recommendation 1.
The ASCC has established a new Policy on Comprehensive Program Review and Assessment of Instructional Programs, Student Services, and Administrative Services.1 1004 ensures ASCC's commitment to planning, assessment, and review processes that authentically measure the work of the College towards achieving its mission. Policy 1004 specifies the following definitions:
Institutional Effectiveness: The measurement of ASCC's performance against established mission, goals, and outcomes.
Institutional Assessment and Program Review: A collaborative, ongoing effort by administration, faculty and staff to assess the overall effectiveness of ASCC's programs as well as administrative, academic, and student support service areas toward the achievement of its mission, vision, and goals.
Assessment Process: Involves collecting and analyzing relevant data to learning and performance outcomes. The analysis of the data will provide a measure of the learning and achievements so that modifications can be made in the delivery of instruction or services that will move the institution forward to meet the overall goal of continuous improvement.
Program Review Process: Program review will assess and evaluate stated outcomes and supporting resources to determine if program/divisional outcomes are met and demonstrate how they support the mission of ASCC.
Assessment and Program Review Cycle: Schedules and deadlines that are published to manage the assessment and program review activities to ensure that all programs/divisions are reviewed in a timely manner.2
Policy 1004 also describes the roles and responsibilities for the implementation of program review and assessment process.
The College defines, implements, monitors, assesses, and evaluates the achievement of student learning through institutional program review, assessment of student learning programs and services, and institutional planning through the roles of particular constituents and decision-making groups.
The ASCC's Program Reviews ensure that processes are ongoing, systematic and used to assess and improve institutional effectiveness. The results of Program Reviews continue to be refined for institutional practices, processes, and policies resulting to appropriate improvements in student achievement and learning. The College has defined two types of Program Reviews that include Institutional Program Review and Divisional Assessment- Program Review.
Divisional Assessment-Program Review assesses the quality of ASCC's instructional and non-instructional programs/departments to determine ways to improve the quality of education, scholarship, and services. The purpose of Divisional Assessment-Program Review is to assure that the College provides high quality programs for students and to identify opportunities for improvement for each academic or service program/department.3
Instructional Divisional Assessment also referred to as the Academic Program Review (APR) are conducted annually in the following areas:
Input Measures: Institutional resources provided for a program of student to achieve stated mission goals and objectives. Main resources are facilities, equipment, teaching qualifications and capacity, and professional development.
Program Operations: Criteria required information that directly relates to the instructional programs/departments of the College. Data includes the number of courses that were offered and assessed during each semester by each academic program/department.
 Output Measures: Specific student characteristics developed after the completion of an academic program of study or course. Areas include tracking, course and degree certificate, retention, completion rates, and the assessment of Student Learning Outcomes.4
Instructional Program Review participants include faculty and adjunct faculty. In September 2015, the Faculty Senate has approved to include in Faculty Performance Evaluations statements for faculty participation in Instructional Divisional Assessment Program Review and Institutional Program Review.5
The Assessment Committee and Curriculum Committee comprised of faculty reviews and approves the Academic Program Review instrument annually with an emphasis on how Student Learning Outcomes (SLO) are achieved through competencies defined in the General Education Program, Core Foundational Areas (content enrichment competencies), and Co-Foundational Areas (specialized competencies).6
Certificate and degree competencies are categorized according to Course Learning Outcomes (CLO) embedded in courses that are aligned to either/or General Education Outcomes (GEO), Program Learning Outcomes (PLO), and the impact these courses have towards achieving ASCC's Institutional Learning Outcomes (ILO).
Non-instructional Divisional Assessment- Program Reviews are conducted annually in the areas of divisional outcomes and mission, evaluation of program/department effectiveness and improvements, decision-making, personnel, staff development and facilities, equipment and technology, student support services, safety and emergency procedures, and planning and resources allocation.7   Divisional Assessment- Program Review instruments are reviewed by programs/departments annually to assure that areas pertaining to services offered are included and results are used by programs/departments for planning and resource allocation.8

Institutional Program Review provides access to institutional data, provides assistance in the analysis of data for decision-making, and improves ASCC's operations through strategic planning.9 Areas reviewed includes Mission effectiveness, student learning programs and services, resources, and governance.  Institutional Program Review is conducted biennially and the Institutional Planning Executive Core Committee (IPECC), a governance decision-making group reviews the instrument for accuracy. Data collected from Institutional Program Review is analyzed by the IPECC including but not limited to annual Divisional Assessment-Program Review data to monitor the ASCC Institutional Strategic Plan and provide updates on the achievement of institutional stated goals and objectives.
The Office of Institutional Effectiveness (IE) compiles program review summaries based on survey input per program/department or institutionally depending on the type of program review being conducted and cycle, and disseminates the summaries accordingly. Access to all summaries are provided on the ASCC website.  IE also provides data on enrollment trends and student achievement standards statistics including but not limited to, the Instructional Divisional Assessment-Program Review analysis for institutional planning and resource allocation.10
ASCC ensures that SLO and student achievement are systematic, ongoing, and used for continuous improvements of its educational programs and services. The College emphasizes the importance of ongoing student learning dialogue and institutional-set standards, ongoing evaluation of student learning processes, ongoing evaluation and improvement of organizational structure that supports student learning, and ongoing program review of student learning.
The College assures that there are considerable data available on student learning for institutional review and analysis. Disaggregated data includes student enrollment trends, student achievement indicators, student placement, developmental passing rates (pre-collegiate), degree requirements, graduation rates, employee data, student opinion, and program reviews that are compiled in Institutional Data Sets (IDS), which include:
ASCC Institutional Data Sets

Type of Data Set:

Measure 1

Measure 2

Measure 3

Measure 4

Measure 5

0001: Student Achievement Data

Developmental Completion Rates

Gateway Course Completion Rates

Program Requirement Completion Rates

Persistence Rates

Graduation & Transfer Rates

0002: Student Enrollment Trends

Unduplicated Headcount

Enrollment by Age

Enrollment by Ethnicity

Enrollment by Major

0003: Student Placements

English Reading Placements

English Writing Placements

Math Placements

Scholastic Aptitude Test Placements

Placement Test Survey

0004: Developmental Passing Rates (Pre-Collegiate Courses)

Developmental English Reading Passing Rates

Developmental English Writing Passing Rates

Developmental Math Passing Rates

0005: Degree Requirements

Gateway Courses

General Education Courses

Core Foundational Courses

Co-Foundational Courses

0006: Graduation Rates

Degrees/Certificates Conferred

Degrees/Certificates Conferred by Program

Completer Data

Graduate Exit Survey

0007: Student Learning Outcomes

General Education Outcomes

Program Learning Outcomes

Institutional Learning Outcomes

0008: Employee Data

Number of Employees

Number of Employees by degree

Number of Employees by Ethnicity

0009: Student Opinion Surveys

Course Evaluation Survey

Student Satisfactory Survey

0010: Program Reviews

Divisional Assessment-Program Review Summaries

Institutional Program Review Summaries

0011: Student Services

Admissions  & Records Data

Tutoring Data

Counseling Data

Financial Aid Data

Library Services
IDS are compiled by IE and disseminated on a semester basis through Fact Sheets that are now available for institutional access on the ASCC website.
SLOs are categorized into four main types of learning outcomes that include ILOs, PLOs, General Education Learning Outcomes (GEO), and CLOs. CLOs are central to the assessment of all competencies and are aligned to particular qualities as defined in ASCC's definition of ILOs, General Education Program, Core Foundational and Co-Foundational areas.
ILOs: Are the competencies defined by the institution that all students upon graduating from the ASCC should acquire and demonstrate proficiencies.
General Education Courses: General Education is the core of the undergraduate degree for all students, regardless of their major. GEO courses describe what the institution wants students to be able to do on completion of the General Education program for an AA or AS degree.
Core Foundational Courses: Are courses that enhance content foundational competencies in core disciplinary areas of study. Core Foundational course requirements are determined by academic degree programs/departments.
Co-Foundational Course: Are courses specific to a discipline or area of specialization. Co-Foundational courses are program focused with emphasis in specialized areas.11
The College has defined CLOs for all courses and is documented in Course Approval Forms (CAF) that are approved by the Curriculum Committee and noted in all faculty course syllabi. All original CAFs are archived at the Office of Academic Affairs upon completion of the signature approval process.12
Courses are assessed regularly and accordingly to a set cycle. The Academic Assessment Committee (AAC) has approved a two-year assessment cycle for all General Education, Core Foundational, Co-Foundational areas, and Developmental courses divided into four semesters.
Chart 1, encompasses the assessment of CLO (courses) competencies for General Education following a two-year cycle:
General Education Qualities

Assessing General Education Qualities 1ST & 2ND Year

Semester 1

Semester 2

Semester 3

Semester 4

Semester 1

COURSES

COURSES

COURSES

COURSES

COURSES

GE 1

SPH 153
ENG 150
ENG 151

SPH 153
ENG 150
ENG 151

GE 2

ICT 150

ICT 150

GE 3

PHSCI 150
MAT 151

PHSCI 150
MAT 151

GE 4

HIS 150
HIS 151
HIS 170
HIS 171
HIS 162

HIS 150
HIS 151
HIS 170
HIS 171
HIS 162

GE 5

HEA 150
PSY 150

HEA 150
PSY 150
Chart 2, encompasses the assessment of CLOs (courses) competencies for the Core and Co-Foundational Areas following a two-year cycle:
Co & Core Foundational Area Course Assessment Cycle

Assessing Core and Co-Foundational Area Qualities
1ST & 2ND Year

Semester 1

Semester 2

Semester 3

Semester 4

Course Numbers

Course Numbers

Course Numbers

Course Numbers

100-150

151-199

200-250

251-299

300-400

401-499
Chart 3, encompasses the assessment of CLOs (courses) competencies for Developmental (pre-collegiate) following a two-year cycle:
Developmental/
Pre-Collegiate Course Assessment Cycle

Assessing Developmental Courses

Semester 1

Semester 2

Semester 3

Semester 4

Courses

Courses

Courses

Courses

ENG 70

ENG 71

ENG 70

ENG 71

ENG 80

ENG 81

ENG 80

ENG 81

ENG 90

ENG 91

ENG 90

ENG 91

MAT 80

MAT 80

MAT 80

MAT 80

MAT 90

MAT 90

MAT 90

MAT 90
ASCC faculty are required to submit data sheets based on competencies assessed for courses taught on a semester basis. Data sheets indicate CLO competencies assessed using rubrics defined by faculty per course as indicated in the sample provided below: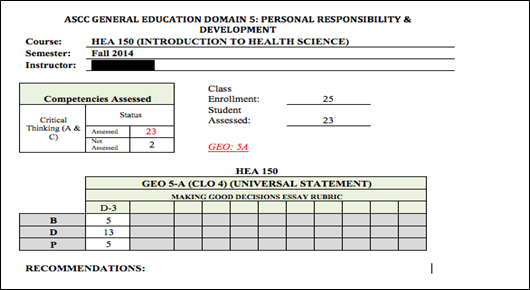 Course data sheets are submitted to the Director of Curriculum and Instruction (former Associate Dean of Academic Affairs). The Director of Curriculum and Assessment compiles all raw data collected from faculty data sheets and provides a summary for faculty analysis.13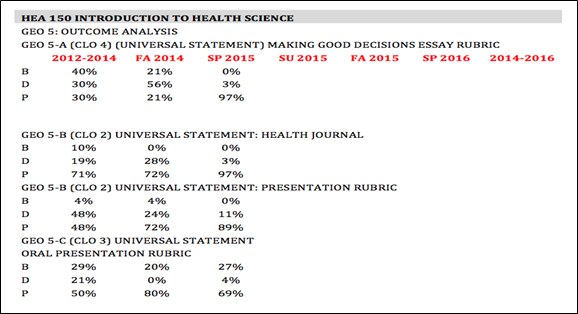 The Director of Curriculum and Assessment disseminates the competency-based summaries to each academic program/department faculty for analysis. Meetings are scheduled by the Director of Curriculum and Assessment with academic program/department faculty to review data summaries, inter-rater reliability and calibration, and to provide recommendations for improving CLO competencies for courses offered.14

Assessment findings allow academic departments/programs to evaluate the necessary improvements of learning outcomes at the course and program level. Recommended changes to ILOs, PLOs, GEOs, or CLOs are required for the review and approval of the Curriculum Committee and then forwarded to the AAC for monitoring.
As a result of evaluation, recommendations are generated and actions are implemented to improve on student learning outcomes, assessment instruments, curriculum alignment, facilities, educational resources, and teaching methodologies are generated and implemented.15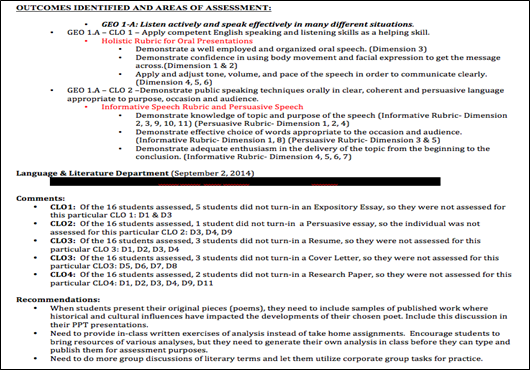 The above chart illustrates how outcome competencies are reviewed and evaluated by faculty resulting to the improvement of course competencies.
The College assures that its student and learning support services are regularly reviewed on an annual basis using the Non-instructional Divisional Assessments- Program Review.
Areas of review include divisional outcomes and mission, evaluation of program/department effectiveness and improvements, decision-making, personnel, staff development and facilities, equipment and technology, student support services, safety and emergency procedures, and planning and resources allocation.16
Section 10 of the Non-instructional Program Review instrument includes the availability and accessibility of services that include computer labs, counseling, library, academic tutoring, academic advising, campus life, and access to admission services and records.17

In August 2015, the Board of Higher Education made changes to the ASCC Organizational Chart to bring together all student services departments under the Dean of Student Services. Departments include the Library, Admissions, Financial Aid, and Records.18
The changes to the Organizational Chart allowed the Division of Student Services to develop a Comprehensive Student Services Manual to focus on student support services offered and for consistency in tracking students in accordance to the ASCC institutional-set standards.19 As a result of broad-based discussion in the setting of ASCC's institutional-set standards, student support services were linked to each institutional standard to ensure that reliable services are provided to students as a measure to improve and solidify divisional instruments and Standard Operating Procedures (SOP).20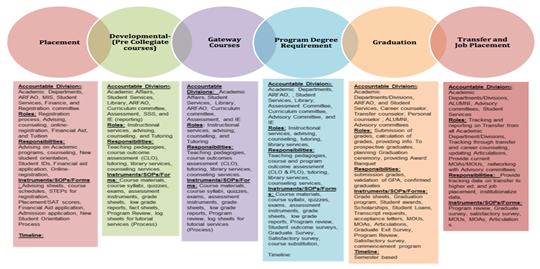 1 - Policy 1004 Comprehensive Program Review
2 - Policy 1004 Comprehensive Program Review, p. 3
3 - Participatory Governance Structural Manual, p.21
4 - Academic Program Review Manual, p. 6
5 - Faculty Performance Evaluation
6 - 2015 Instructional Divisional Assessment Survey
7 - 2015 Non-Instructional Divisional Assessment Survey
8 - 2015 IE Planning and Resource Allocation Analysis
9 - Participatory Governance Structural Manual, p. 20
10 - 2015 IE Academic APR Summary, pp. 1-30
11 - ASCC Catalog 2014-2016, p. 45
12 - Academic Affairs SOP Manual
13 - Assessing Student Learning Manual
14 - Assessing Student Learning Manual
15 - Assessing Student Learning Manual