I.B.3. The institution establishes institution-set standards for student achievement, appropriate to its mission, assesses how well it is achieving them in pursuit of continuous improvement, and publishes this information. (ER 11)
The ASCC has established institutional-set achievement standards. Student achievement standards provide measurements to determine the amount of academic content a student learns in a determined amount of time. The College's defined standards and data are used as a basis to focus institutional dialogue on improving student learning and achievement through assessment practices. Standards for the ASCC's institutional-set standards are as follows:
Developmental Courses: The successful Completion of highest developmental English and Math Courses which transition students into college readiness;
Gateway Courses: The successful completion of college level English and Math Courses as required by all degrees to transition into Gen-Ed and Program Requirements;
Degree Program Requirements: The successful Completion of Gen-Ed, Core Foundational and Co-Foundational courses required by a Degree program;
Persistence: The retention of students in their first year and second year and within 150 percent time to graduation;
Degree/Certificate Completion and Transfer: The successful completion of a Degree Program or Certificate and transfer to institutions of higher learning or transition into the workforce.
The ASCC's standards for student achievement guarantees that the College's Mission is implemented and fully accountable for the offering of high quality educational programs and services for students to achieve the desired career pathway.
The emphasis on career pathways to student success allowed the College to capture the needs of students and to monitor student-learning experiences upon completion of a certificate or degree. The College identified the types of student cohorts, which include certificate seeking students and degree seeking students, and the path towards achieving their educational goals.
To ensure high quality of educational programs, the College developed indicators and measurements for determining institutional-set standards to evaluate the effectiveness of outcome competencies for the certificates and degrees offered.1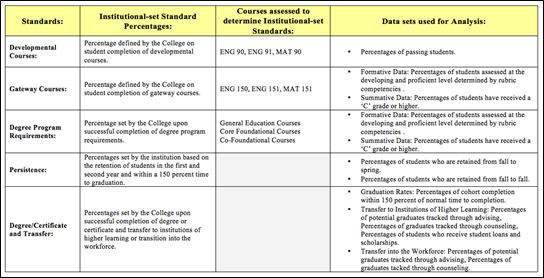 The determination of institutional measurements resulted to the setting of ASCC's institutional-set achievement standard percentages.2

The College emphasizes its broad-based understanding of priorities and processes to implement strategies to achieve its outcomes through its Participatory Governance Structural Manual. ASCC Mission is essential to institutional planning through its emphasis on student learning and achievement.
All internal stakeholders are committed to the best interest of the students and are unified by the College's Vision, Participatory Governance Core Values, and achievement of its Institutional Learning Outcomes to assure that student centeredness is central to institutional planning and the setting of institutional priorities.3
The College has established its institutional-set achievement standards in the spring of 2015. The ASCC will be monitoring the achievement of its institutional-set standards in the fall of 2015 following the academic cycle.
The ASCC's 2015 Annual Report submitted to ACCJC did not include certain institutional-set achievement standard percentages for program completion, percentages of students who transfer to four-year institutions, percentages for graduate employment, and percentages of institutional learning outcomes with ongoing assessment of learning outcomes.