II.C.2. The institution identifies and assesses learning support outcomes for its student population and provides appropriate student support services and programs to achieve those outcomes.  The institution uses assessment data to continuously improve student support programs and services.
The changes made at the College to comply with this standard were guided by Recommendation 1.

The College is dedicated to helping its students attain their highest educational potential and to provide them with a firm foundation for lifelong learning.  The College is committed to offering a diverse program of student services to support and promote attainment of student educational goals. Major components of this network are available to students from the time they apply for admission through graduation and beyond.  These services and programs include the following:

Admissions
ASCC Wellness Center
Career Transfer Center (CTC)
College Access Challenge Grant Program:  Outreach and Recruitment
Counseling-Academic, Career, Personal, Transfer, Diversity, Tutorial and Veteran
Financial Aid (Federal Pell grant/Federal Work Study and Non Pell Work Study)
Library
New Student Orientation
Records
Student Learning Assistance (SLA) Center-Annex-Tutorial
Student Government Association (SGA)
Scholarships and Loans (ASCC, ASG, private and national)
Veterans Affairs (VA) Student Services
The consolidation of all student services division areas under DOSS addressed the areas in need of improvement for effectiveness of student services and programs.  The College has identified and assessed learning support outcomes for all students through the creation of the identified Institutional-Set Standards and Pathway to Student Success. The DOSS provides support services for all students throughout their pathway to student success.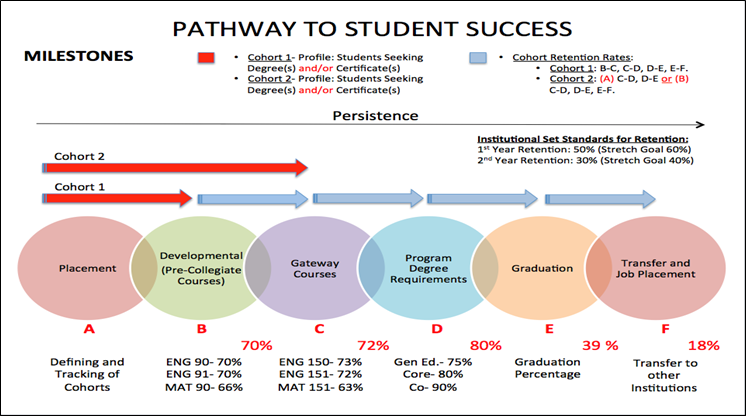 Figure 1
Discussions about student access, progress, and learning support services have been on-going through faculty/staff meetings and committee meetings which resulted in the Institutional-Set Standards and Pathways to Student Success. The evaluation of services in the Institution Program Review (IPR) identified the importance of comprehensive student support services for student achievement and success. 1

Tutoring services are available to all enrolled students to help assist in attainment of personal and academic goals.  The comprehensive-tutoring services provide quality academic support to all enrolled students, and are available as one on one assistance and small group sessions.  Programs and departments that offer tutorial services serve a target population such as Science, Technology, Engineering and Mathematics (STEM) through the Louis Stokes Alliances for Minority Participation (LSAMP) grant. 2
Assessment measures of DOSS effectiveness include final grades of students who received tutoring services within the semester. Divisional Assessment also includes the Low Grade Reporting period 3whereby it is scheduled on the fourth week of instructions.  DOSS in collaboration with the DOAA and other support services, uses the Low Grade Report referral process 4 to allow students with low grade and students on academic probation to create an academic plan to improve their academic performance.5
DOSS counseling services continues to provide academic, career, personal, transfer, veterans and diversity counseling, however, to further enhance the counseling services area the Career and Transfer Center was developed to assist students in career and transfer exploration in alignment with the mission of the college. Career and transfer counseling services collect, maintain, and distribute academic, transfer and career information to all students.  Additionally these counselors provide services to assist students with admission applications to higher institutions, as well as academic preparation, assistance with application for financial aid, scholarships, loans and other resources. 
In response to the previous 2008 Recommendation 5, continuous dialogue and discussions by the responsible divisions of ASCC and members of the Academic Excellence Subcommittee set definitions for Institutional set standards for Persistence and Degree/Certificate Completion and Transfer. Available data allowed the Academic Excellence Subcommittee to consent on set standards based on data available with the Institution. 
Transfer planning starts upon entry to ASCC through orientations, workshops, advising, counseling, and other academic support activities.  The Career and Transfer/Alumni counselors provide assistance to students requesting information on transferring to institutions of higher learning or for career pathways.
Transfer to the Workforce:  To address Student Achievement Standard 5 on transfer into the workforce, 6 the office of Institutional Effectiveness gathered existing data to determine factors for measuring and monitoring this rate. Data from three Academic Departments (Nursing, Trades, Teacher Education) on graduate tracking was used to determine the rate of transfer to the workforce. IE compiled the information for initial review by the Academic Excellence Subcommittee.7

TRANSFERS: ASCC to Stateside Colleges/Universities
Fall 2001 – Spring 2014
(Started off-island Spring 2002 – Fall 2014)

Stateside Colleges/Universities

SEMESTER/YEAR

TOTAL

Academy of Art: 

SP 08

1

Andrews University – Michigan:

1(F12);

1

Andrews University –WA:

1(SP13);

1

Argosy University Online Program – HI:

FA 12

1

Arizona State University:

FA 11, SP 12

2

ASCC – AS (Bachelor in Elementary Education):

FA 12

3

BYU – Hawaii :

3 (F-01); 4 (SP02); 3(F02); 3(SP03); 1(SP08); 1(F08); 1(F09); 1(SP10); 2(SP11); 1(SP13);

20

BYU – Provo:

1

California State University – East Bay:

SP 08

1

California State University-Los Angeles:

SP 08

1

California State University – Northridge:

SP 09

1

California State University – Sacramento:

1

CSU

FA 08

6

Catholic University:

SP 03

1

Chaminade University of Honolulu:

1(FA01); 7(FA02); 2(SP03); 3(SP08); 3(FA08); 1(SP09); 1(SP11); 1(SP11); 2(SP12); 1(FA12); 2(SP13); 2(FA13); 4(SP14);

30

College of St. Rose – NY:

1

Embry Riddle University:

SP 13

1

Hawaii Pacific University:

1 (SP02); 3(FA03); 2(SP10); 1(FA12)

7

Kansas State University:

FA 08

1

Menlo College:

1

New School of Architectural Design:

FA 08

1

New York Institute of Technology:

SP 14

1

North Park University – Illinois:

SP 14

2

Northern Arizona University:

FA 10

1

Ohio State University:

SP 14

1

Oregon State University – Oregon

FA 11, SP 14

2

Pensacola Christian College – FL:

SP 14

1

Portland State University – Oregon

FA 12

1

Sam Houston State University-TX

FA 09

1

San Diego State University:

FA 01, SP 02

2

Southern Oregon University:

1

Texas A&M University – Commerce, TX

2(SP08); 1(F09); 1(F11); 1(SP12)

5

Union College: 1(SP08);

University of Advancing Technology – AZ:

FA 12, SP 13

2

University of Alaska:

1(SP10); 1(F10);

2

University of Arizona:

(FA01); 1(FA02); 1(SP11); 1(SP12)

4

University of Hawaii – Hilo:

4 (F03); 4(SP02); 4(SP08); 3(F08); 10 (F09); 11(SP09); 12(SP10); 3(F10);  10(F11); 11(SP11); 12(SP12); 9(F12); 7(SP13); 2(F13); 2(SP14);

104

University of Hawaii – Manoa: 

2 (FA01); 4 (SP02); 11(FA02); 7(SP03); 3(FA03); 6(SP08); 4(FA09); 2(FA08); 3(SP10); 8(FA10); 5(SP11); 6(FA11); 6(SP12); 3(FA12); 3(SP13); 3(F13); 6(SP14);

82

University of Hawaii – West Oahu:

1(FA01); 1(FA02); 2(FA11); 1(SP13); 2(FA13);

7

University of Idaho:

1(FA12);

1

University of San Diego-CA:

1(SP11);

1

University of Nevada –Las Vegas:

2(SP03); 1(SP13); 2(FA13);

5

University of New Mexico:

1(FA12); 1(FA13);

2

University of North Carolina:

1 (SP02);

1

University of South Florida:

1

U of Washington:

2(SP03)

2

University of South Florida:

1(SP12); 

1

University of Utah:

1(SP08); 1(F08);

2

University of Washington:

1(FA09);

1

University of West Florida:

1(SP14);

1

Utah Valley University

1(FA09); 1(FA10);

1

Utah State University

1(SP12); 1(SP14);

2

Washington State University-Pullman

1(SP08); 2(FA10); 3(SP13);

6

Westminster College, UT

1(FA01);

1

Wilmington College – Ohio

1(FA12);

1
Transfer to Institution of Higher Learning Rate: The 18 percent rate represents an average of students who have been awarded with American Samoa Government Scholarships and/or loans for the past five years to further their education at an institution of higher learning. Great discussions amongst members of the Academic Excellence committee on improving services in solidifying tracking instruments, processes and policies to ensure validity of data available to meet the student achievement standard.  As a result, a stretch goal is set at 25 percent for the Accountable Divisions to revisit and improve on its tracking instruments, practices, and processes through Academic Programs and Transfer service.  8
Hawaii:                       ________250 (80.906%)
BYU-Hawaii:                                                  20
Chaminade University of Honolulu                30
HPU                                                                7
UH-Hilo                                                          104
UH-Manoa                                                      82
UH-West Oahu                                               7
California                   ______            12(3.88%)
Academy of Art                                              1
California State University                             6
New School of Architecture and Design        1
Menlo College                                                 1
San Diego State University                            2
University of San Diego                                 1
Washington                                        9(2.91%)
Andrews University                                        1
University of Washington                               2
Washington State University                          6
Arizona                                              5 (1.61%)
Northern Arizona University                          1
University of Arizona                                     4
Oregon                                               5 (1.61%)
Oregon State University                                 2
Portland State University                               1
Southern Oregon University                           1
Utah__                                                5 (1.61%)
BYU                                                               1
University of Utah                                          1
Utah State University                                      1
Utah Valley University                                   1
Westminster College                                       1
Florida                                                4 (1.29%)
Embry Riddle University                                1         
Pensacola Christian                                         1
University of South Florida                            1
University of West Florida                             1
Texas                                                  3 (.97%)
Sam Houston State University                       1
Texas A&M University – Commerce 1
University of Advancing Technology            1
Arizona                      _____­_                        1*
Arizona State University                                1
Idaho                                                              1*
University of Idaho                                        1
Illinois                                                             2*
North Park University                                     2
Kansas                                                            1*
Kansas State University                                  1
Michigan                                                        1*
Andrews University                                        1
Nebraska                                                        1*
Union College                                                 1
Nevada                                                           1*
University of Nevada – LV                            1
New Mexico                                                   2*
University of New Mexico                             2
New York, NY                                              2*
College of St. Rose                                         1
New York Institute of Technology                1
North Carolina                                              1*
University of North Carolina                          1
Ohio                _______                                  2*
Ohio State University                                        1
Wilmington College                                        1
Washington, DC                                            1*
Catholic University                                         1
2 Colleges/Universities, total of 16 students attendance (1-2 students per institution) 5.77 percent
1 - Participatory Governance Structural Manual:  Institution Set Achievement Standards, pp. 25-27
2 - Comprehensive Student Services Manual
3 - ASCC Catalog 2014-2016, p.8
4 - DOSS Standard Operating Procedures Manual
5 - Comprehensive Student Services Manual
6 - ASCC Analysis of Show Cause Actions Taken, p. 37
7 - ASCC Analysis of Show Cause Actions Taken, p. 37
8 - ASCC Analysis of Show Cause Actions Taken, p. 37